Chinese authorities have been accused of using their world class innovation capabilities to illegally monitor minority groups in the northwest of the country.
On Thursday, a Human Rights Watch (HRW) report titled "China's Algorithms of Repression: Reverse Engineering a Xinjiang Police Mass Surveillance App," revealed how Chinese authorities have developed a mobile app for police to use. The app pulls data from China's mass surveillance system – the Integrated Joint Operations Platform (IJOP) – to help police build detailed personal profiles on Uighurs and Turkic Muslims living in Xinjiang.
Uighurs are an ethnic minority that make up around 45 per cent of the population in Xinjiang. Chinese authorities are concerned Islamist militants and separatists may live among the Uighurs. As many one million Uighurs are reported to be held in internment camps in the Xinjiang region.
In addition to gathering information like blood type, height, "religious atmosphere" and political affiliation, police can use the app to determine things like when a registered owner of a car is not the same person as the one buying petrol or when people take overseas trips for a length of stay that the authorities might consider worrying. Authorities are then prompted to interrogate the person, their relatives or acquaintances.
The police are known to manually search through people's phones for one of 51 internet tools considered "suspicious". Communication apps like WhatsApp, Viber, Telegram, and Virtual Private Networks (VPNs), are considered suspicious, the HRW report revealed.
Human Rights Watch's China Director Sophie Richardson told Dateline the investigation highlighted the reach of the mass surveillance as well as its potential to be used by China in other countries, or by those looking at similar systems.
"I think when we first sat down and looked at the source code and understood what information authorities were trying to gather and how it was being aggregated and how it was being used, our hearts just stopped," she said.
"Because the consequences, not just for people in Xinjiang and not just for people in China, but well beyond China's borders are not small and this has got to stop now."
Richardson said the "horrifying innovation on display" showed just how far Chinese authorities were prepared to go to get what they want.
"Chinese authorities are willing to spend extraordinary time and resources designing systems to gather information regardless of anybody's laws including their own. I wouldn't expect them to be shy beyond their borders either."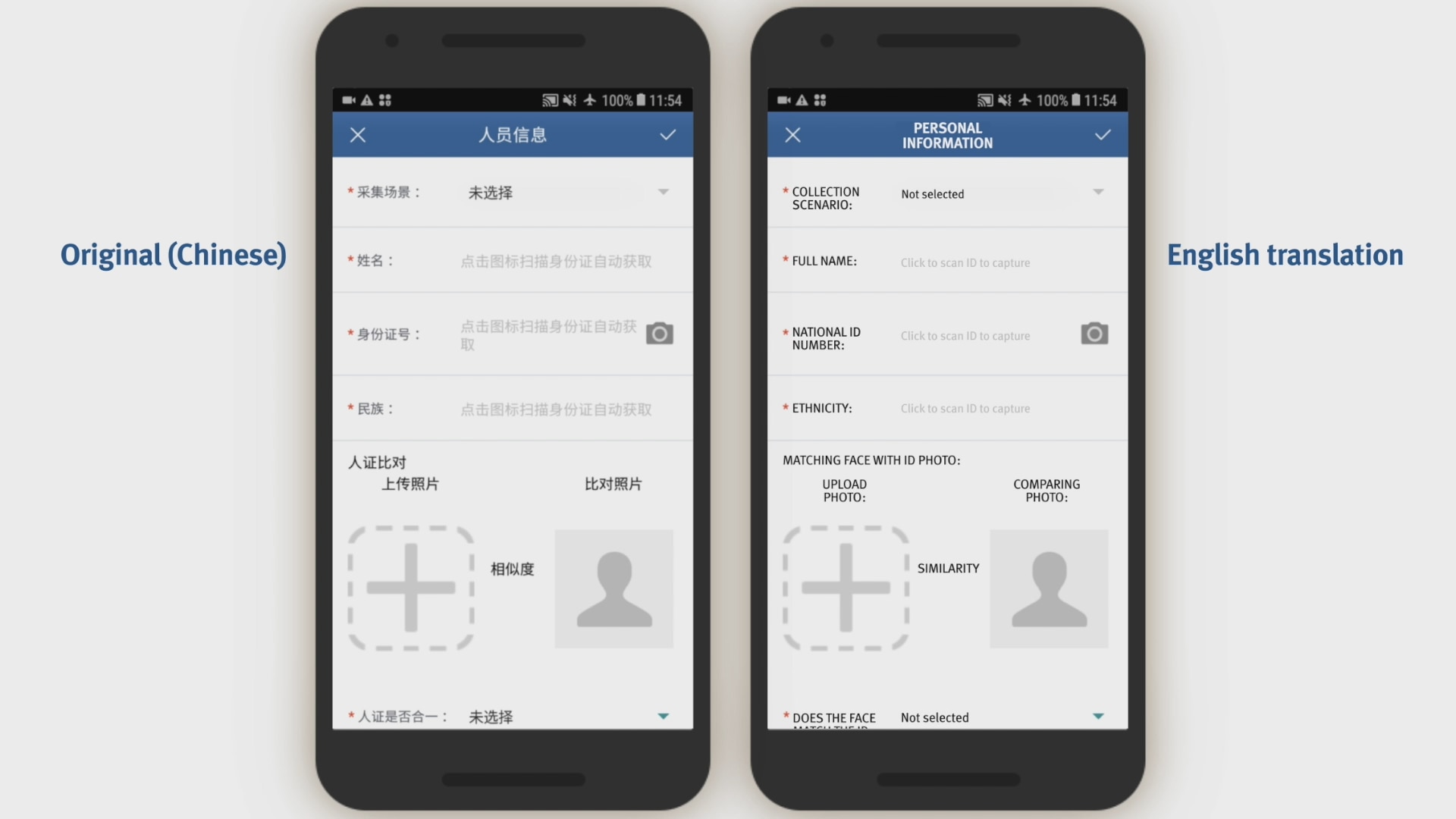 China signed The International Covenant on Civil and Political Rights in 1998 which provides that no one shall be subjected to arbitrary or unlawful interference with their privacy and that everyone has the right to the protection of the law against such interference. However, it has not been ratified.
Despite appearing to breach the country's own privacy laws, Richardson adds a lack of criticism and rebuke is enabling the persecution of millions of Turkic Muslims in the region. The Chinese Embassy in Australia did not respond to Dateline's request for comment.
Associate Professor in China Studies at the University of Technology, Sydney, Dr Chongyi Feng told Dateline the mass surveillance program has capabilities beyond Xinjiang and its focus on Uighurs.
"This electronic surveillance is developed to a very high level in China," he said.
"Previously it has been used to target individuals and also dissidents including Falun Gong, Democracy movement leaders, so-called house churches and human rights lawyers. Now it is used to target the entire community of Uighurs. This is a new development.
"When you talk about the social tracking system, using the AI (artificial intelligence), they can screen everyone. There are so many little cameras in every corner of China. It's nationwide. For the time being, it's focused on the trouble spots. But it's a national problem. If activated, it could put the entire population under surveillance."
Sydney University computer science lecturer Dr Suranga Seneviratne specialises in security and privacy systems and explained technology developments in AI – where China is a significant player – are pushing major advances in mass surveillance.
"With the potential of the technologies, it's not that difficult to build anything like you see in movies," he told Dateline. "We're already there. It becomes increasingly easy every day."
Dr Seneviratne added the increasing development of AI and machine learning is outpacing the ability for regulations and ethical concerns to keep up with its capabilities.
"The fact is it is not something unexpected," he said. "All of these developments over the last few years were leading to this point.
"One thing I would add is that AI is developing rapidly, it's a matter of time before we control and regulate AI in an ethical manner. We might need some outside boards or guidelines and frameworks on how we can ethically use AI."
Cure53, a Berlin-based security company, was commissioned by HRW to reverse-engineer the app.
Speaking with Dateline via email, a company representative was asked whether the technology underpinning the app was able to be exported to other countries:
"It is purely speculative of course, but the level of complexity of the app wasn't overly high and I am pretty certain that with some minor effort, the app could be tweaked to work for other countries or geographies as well.
"We cannot really judge the server-side back-end though, we only looked at the app. Maybe there is more complexity and region-specific code, but I doubt that white-labelling [re-branding a product created by another to appear as their own] such product and selling it to other countries would be much of an effort."
Dr Thomas Cliff from the Australian National University says the Xinjiang region's location and recent history make it an ideal testbed for complicated mass surveillance programs.
"I have argued that Xinjiang is both behind and ahead," he told Dateline. "That means it's a frontier, and some things get there later from the core areas. But it's also a laboratory and a place of experimentation. There are certain things you can do in the frontiers further away from the core population, cultural areas and core political areas that you couldn't test out there."
With China's booming presence around the world, opportunities for expansion could be rife.
"The customers for that would be semi-client states [subordinate countries linked politically, militarily or economically to a larger one] in Central Asia, Africa, Latin America and countries that are definitively down the developmental hierarchy than China and beholden to them in economic terms," Cliff added. "That could be sold there, perhaps even making it another frontier."
While mass surveillance systems exist in other countries, Chinese telecommunications giants such as Huawei and ZTE have been criticised for their close links to the Chinese Government – which reserves the right to require companies to assist with intelligence gathering.
Huawei in particular has come under scrutiny in Australia, the US, UK and Canada, with its founder Ren Zhengfei's history as a former technologist in the People's Liberation Army regularly cited among its risks.
"I think we already know similar technologies already are being exported," adds HRW's Richardson.
"Venezuela, Zimbabwe, Ethiopia and Brazil have all bought different surveillance systems, ostensibly as China suggests for security purposes that have the capacity to be used for arbitrary illegal surveillance too.
"If governments choose to go down this route with Huawei and other tech companies, they have to be honest at the risks they are increasing for their own citizens. It's not just about what happens inside China anymore."
For Richardson, one great unknown of the report remains the true scale of the enterprise.
"In a way, the concern we have is how big the part of the iceberg under the surface is," she said. "If we could figure out what we did in this report about one app in one region, we have to wonder what else is being used across the entire country.
"The Chinese Government and [Communist] party can't yet muster the kind of total integration of these different systems and control that they would like to. There is some level to this based on human inputs and it is still labour intensive. Nevertheless, I think the intentions of the state of are painfully clear."
"What price do they pay for breaking them? None. They've got a good cover story so far as the domestic audience is concerned; there is a terrorism problem and this is the perfectly appropriate way of ensuring public security."
For Dr Chongyi Feng, who was detained and questioned in China following a three week research trip in 2017, the story is one Australia cannot ignore.
"I think the Australian public should be aware of this type of practice to date. It operates not only to its own logic, but for Australia to defend human rights and other liberal values, we need to be conscious of the nature of this type of practice to date."